RCF Active Speaker System Repaired. Model: ART 300A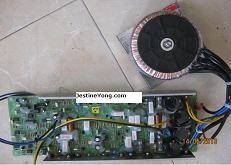 An audio technician guy brought this RCF active speaker system to my shop and told me that he can turn the speaker on but he cannot hear any sound coming out of it. I plugged power in and I could see the power button coming on.  I should be hearing some kind of noise when the speaker comes on but I did not. Instead I could smell something burning inside. Quickly I turned it off and took it apart.

I had to take a lot of screws off to open the back cover but finally I opened it. I took a deep look inside and the thing that caught my eyes was the burnt resistor on the side of the audio board. It smelled bad too indication there is a serious problem inside. It was a fuse resistor that it turning dark and smelling bad. I also found two open fuses on the same line of the resistor.
I wanted to understand what kind of circuit I am dealing with so I replaced the two fuses and turned the power on and I right away I could see this fuse resister turning to red. It was really getting hot which indicate some kind of shorts in the circuit. Turned it off and started to check the component in the circuit.

I started tracing the lines starting from the main fuse and got all the way to the fuse resistor and all checked ok. My focus was to check something around that resistor to see if something is shorted out. I could not find any bad components there. I must have missed something on that line so I went checking the same line backward and to my surprise, I saw a 12 volts zener diode DZX85C that is shorted out. It was located near the fuse that was open. This shorted zener was making some kind of loop in that circuit causing the fuse resister to heat up and the main capacitor was not discharging at all.
The moment I took the zener out and replaced it and also replaced the fuse resistor with a new one, the speaker system came back to life and I could hear nice music coming out of the speaker.

This article was prepared for you by Waleed Rishmawi, one of our 'Master Authors' and currently working in the Bethlehem area of Palestine repairing electrical and electronic equipment.
Note: If you have any interesting  repair article that you want to share to others please do contact me
Likes
(

23

)
Dislikes
(

1

)