Repairing battery charger by transistor doubling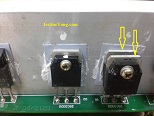 Battery charger Model KCA-1220  came to my shop last week in dead situation ,I opened the cover  hoping it is a matter of blowing fuse, noting was I expected ,

I carried on checking till I come to transistor power Q1 :2SC3320 was short. I looked to the datasheet  I found (VCEO=400V, IC=15A, IB=5A).
Unfortunately I found nothing can replace it in my drawers . the only transistor I have with big number is BU508A, but this transistor is only 8A.( VCEO=700V, IC=8A, IB=2.5A)
Just I would like to mention that I could not find the original part in the local market , and because of the political instability in our country , making an order through the internet became more difficult.
Anyway ,I made comparison to the two transistors datasheet , they look similar , the only difference is their current rating .


I decided to make 2 of BU508A  in parallel to increase the current rating , this idea comes to my mind , because I have came cross many circuit which designed on this base.
I made it and it works..


This article was prepared for you by Muftah H Shawish from Misrata Libya. He has more than 25 years experience in troubleshooting and repairing of  industrial systems, electronic control system, temperature controller, motors drives and automotive control unit. He was a BET graduate, currently work as a manager of electrical repair dept in Libyan steel company and also run his own electronics repair shop.
Please give a support by clicking on the social buttons below. Your feedback on the post is welcome. Please leave it in the comments.
P.S-  If you enjoyed reading this, click here to subscribe to my blog (free subscription). That way, you'll never miss a post. You can also forward this website link to your friends and colleagues-thanks!
Note: You can check out his previous repair article in the below link:
https://www.jestineyong.com/modification-of-transistorresistors-in-ac-37kw-ls-inverter/
Likes
(

207

)
Dislikes
(

6

)