Display Problem In Samsung LCD TV Repaired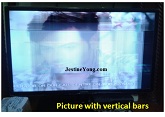 I have got a call from one of my clients about his home Internet was not working. The router was not getting the DSL light thus I have to contact the internet service provider. Unfortunately at that time the internet service provider could not provide the solution due to some technical problems. Before I left my client offered me a cup of tea and asked if I have any reference of technical guy that could repair LCD TV.

He said the LCD TV had display problem. I have asked his permission to let me try if I can solve the problem. After he had granted the permission, I removed the TV cover and started on the troubleshooting by doing a visual inspection first.
There were no physical damage or burn marks and each of the circuit boards solder joints seem to be intact.
Now I'm stuck because I did not carry required tools for TV Repair. Suddenly I got an idea why not try clean LVDS cable contacts and see how it goes. Hence I have removed the flat cable and what I found was; there was oxidation on golden contacts hence I have cleaned the contacts by rubbing it using a rubber Eraser. 

After the cleaning work, I put everything back and turned the TV "ON". Guess what? The display problem was gone and there was a smile on the customer face.

This article was prepared for you by Yogesh Panchal who works as a Computer Hardware Engineer in Mumbai India.
Please give a support by clicking  on the social buttons below. Your feedback on the post is welcome. Please leave it in the comments.
P.S- Do you know of any your friends who would benefit from this content that you are reading now? If so, forward this website to your friends or you can invite your friends to subscribe to my newsletter for free in this Link.
Note: You may also check out Fernando Frias article on LCD TV repair below:
Likes
(

299

)
Dislikes
(

5

)