Secret Of Recovering Data From Defect USB Sticks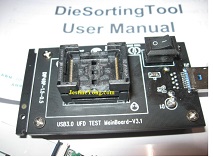 Today's USB memory sticks have made a lot of media obsolete, including the old but trusted floppy drive. And memory stick data capacity keeps on growing bigger by the day with no end in sight. And increasingly faster data reading and writing speeds are now even making cd-rom and newer dvd disc look old.
But it happens that the memory stick no longer is recognized by any computer we try. And with it we lose all access to data that was stored on it. If this happens to a dvd we often can recover all or almost all previous saved data easily with programs like Isobuster. However recovering data on memory sticks is not that easy because there are a lot of facts we need to take in consideration before we succeed in recovering any of the saved information.
Here I will name a few of those reasons :
When the USB memory controller on the USB stick is defect or its crystal, at best we should replace the controller or the stick by a new good working controller, because another controller from another stick won't work!
The data is saved on a Nand (flash) memory chip in a manner that is controlled by the controller it was attached to. Crc checks and page and memory bank addressing is used depending on what controller is used.
Even if we succeed in reading out the entire stick's nand memory bank or banks into one large bin file, which is easy with the RT809H universal nand memory programmer, we still can't see any of the original saved files. We only see binary numbers or hex code we can't interpret without knowing how the controller arranged that data. There is a good Russian site that knows all about every stick on the market but it takes a lot of reading to comprehend all that is written on that site about recovering. And not only because it is in Russian.
Although the nand and the data that was stored on it could be gone too, in most cases the nand or nands (if larger sticks are involved) are still intact. These USB memory chips are mostly 2 x 24 pins (48 pins_ 8 or 16 bit) nands or newer bga chips. But we need to take special action to recover back the data that is stored on it in its original format. (Photos, Text, exe, html files etc.)
Now that we know the most important facts we will start with recovering all files from a now 4GB defect Sandisk stick with a bad FC8708 (square 48 pins type) controller chip. These controllers not only control the communication between USB and the Nand, but also the 5V voltage conversion to the voltage that the nand requires (1.8V or higher). Below a photo of this controller and the nand.

The nand was easily removed with hot air by just turning the chip downwards until it fell off the board without any real force. Of course without removing any of the other components on the other side of the board. And I checked and read the entire chip with the RT809H in a few seconds and saved the entire 4GB data file as bin file to my computer as a precaution in case the chip would fail later on. It was auto verified being okay! Which confirmed the nand was still fine! Next the screenshot from the RT809H with verified good nand.

Following photos show the defect 4GB Sandisk memory stick with bad FC8708 controller.
The 2 photos on the left and the middle show the module before the nand was removed. And the photo on the right shows the memory stick after the 48 pins (2×24 pins) nand was removed. And although there exists Alcor software that helps repairing this and other sticks online, it didn't help here to regain control on the stick and neither will it help to recover any nand data without destroying (formatting) it first in the process. Because as said the FC8708 no longer works which means a dead stick. We can however use the free and fine software tools like CHIP GENIUSv4.17, CHIPeasy v1.5.6.6 or others to get all info on inserted USB sticks if the marking on the controller is unreadable and/or if the stick is working but the case still unopened. Those tools do not even need to be installed to work. Or tools like Flash Extractor that all require additional knowledge.
But of course Chip Genius and others only show all info on good working sticks. So in this case we will need extra tools and/or hardware to recover all data from the extracted nand chip.

Next picture shows the way in how the data in the bin file looks when it is checked with an hex editor. None of the original files are visible without the correct decoding that needs to be done by the now defect FC8708 controller to make any sense! (Or by an identical USB memory controller like the Alcor AU6987). So nothing we can use or do with our 4GB saved bin file without extracting and using the right knowledge from the special sites who deal with and collect data on all recovering all sorts of memory sticks. Those sites and sellers do have compatibility lists of controller chips and the nands they are able to control. So that is an other reason why recovering data on memory sticks is cumbersome. And some of those sites also show thousands of collected files with photo on every memory stick they archived. Often also mentioning the tools that were used to recover or repair the memory stick.
I tried to fix the defect FC8708 memory stick by ordering a new chip on Aliexpress but after payment and two weeks of waiting the seller without notice suddenly had cancelled the shipment. So I ordered that chip from another seller for twice the previous paid price but again after already two weeks of waiting the seller still hasn't even shipped my chip. So I gave up on fixing the defect 4GB Sandisk memory stick.

To continue the task in recovering the saved nand data I therefore ordered another memory module without nand but including a special nand reader with a 48 pins nand test socket. That memory stick contains an in function identical controller chip being the AU6987 from Alcor. As could be read in instruction guides and lists from those sites. The AU6987 stick is inserted in the special USB connector on the nand tester/reader and with two 24 pins flat cable connectors connected to the nand tester socket. In which we now will put our to be correct decoded 4GB nand.
The hardest part was to solder the two 24 pins flat cable connectors on the AU6987 memory stick that is going to recover our nand. And the other two 24 pins flatcable connectors that are soldered on the nand tester reader at the solder side of the nand test socket. Because it were Diy kits that you need to solder first! Everything was ordered from Zirui shop who was patiently helping me with any question I had, and they did send me all guides and software (Alcor MP Tools which I didn't need right now yet) until the recovery worked!









Conclusion: After switching on the switch on top of the nand tester/reader the 4GB nand memory chip was perfectly recognized and finally saved to hard disk to the through USB cable connected computer.
All data was restored and rescued for the customer who's original stick was dead. His original stick was still defect and maybe the ordered FC8708 will still arrive in a couple of weeks but no longer needed to recover the nand that still is fine but no longer is needed.
So recovery of defect USB memory sticks is very much possible if you order the right memory stick controller or controller chip and this USB2.0/3.0 nand reader/tester to make it possible.
This nand reader tester (about 34 euro including 9+ euro shipping), its board and the nand tester socket, which also is placed on a socket, is of very good quality, and can even easily be replaced with other memory bga sockets in the future. The AU 6987 memory module without nand and without 24 pins connectors did cost 10,42 Euro exclusive +9 Euro shipping. But taking in account what other firms dare to ask for such a recovery it is well spend money!
But if your soldering skills are not capable in soldering four small 24 pins flat cable connectors with only 0.5mm spaces in between, you better let someone else do it for you. It can be done as I did, but you need to repeat it for every other memory stick controller you want to use to recover the nand it in the past had written data to.
Although there probably is no other better way to recover the files of your lost memory stick, it isn't cheap, and can only be done if you use the right controller or equivalent memory module.
So if you lost your favorite photos or important data, it just takes some investment and time to solder over 96 pins and components into the shown tester board to make it all possible.

Albert van Bemmelen, Weert, The Netherlands.
Please give a support by clicking on the social buttons below. Your feedback on the post is welcome. Please leave it in the comments.
P.S- If you enjoyed reading this, click here to subscribe to my blog (free subscription). That way, you'll never miss a post. You can also forward this website link to your friends and colleagues-thanks!
Note: You can read his previous repair article in the below link:
https://jestineyong.com/fixing-a8-anet-3d-v1-5-mainboard/
Likes
(

67

)
Dislikes
(

1

)