Shorted Transistors In Active Sound Speakers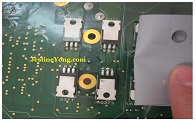 A speaker that was sitting in my shop for almost 45 days. I was not able to get to my shop due to the spread of the Covid 19 virus because everything was on lock down. Now it got better in the Bethlehem area (still keeping my distance) I was able to go to the shop and resume my repair business there.

It is an active speaker which means it has an amplifier built in. JBL considered to be very liable sound quality devices.
This device was completely dead and to get inside the device I had to take lots of screws off.

That is the audio control panel on the back of the speaker and as you can see, it was dusty and needed a lot of cleaning.

Finally I was able to get inside the device and as usual I looked around for burnt components but I found none.

As I looked to the parts here, all of them tested fine except two of them and they had to be replaced.

These two component were shorted out and I was lucky to find two in my shop otherwise the customer has to wait for a long time to get his device fixed.

The part number is 30N06 and 17P06 and make sure do not get confused between the two when doing the actual replacement.
Once the replacement was done and I put everything back together, I was a little bit hesitant to power it on but finally, I powered it up and the result was just great.

Mission Accomplished.

This article was prepared for you by Waleed Rishmawi, one of our 'Master Authors' and currently working in the Bethlehem area of Palestine repairing electrical and electronic equipment.
P.S- Do you know of any your friends who would benefit from this content that you are reading now? If so, forward this website to your friends or you can invite your friends to subscribe to my newsletter for free in this Link.
Note: You can check his previous repair articles in the link below:
https://jestineyong.com/a-play-station-4-showing-no-signal-on-tv-repaired/
Likes
(

72

)
Dislikes
(

0

)