Sparking Sound In JVC TV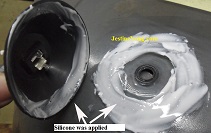 The complaint of this JVC CRT TV was the sparking sound when it was turned On. It was actually the arcing sound from the Flyback Transformer anode cap area to cold ground.
The moment I lifted up the cover the first thing I saw was the part of the top anode cap had gone missing. The rubber materials seems to have deteriorated over the years of usage- see photo below:

In order to safely remove the anode cap, you must first discharge the high voltage by poking (recommend flat type screw driver) the anode cap with a wire connected between the screw driver shaft and the cold ground. Sometimes you will hear a "pop" sound, sometimes no sound at all. If no sound means the high voltage already been discharged and you can safely remove the anode cap. In most of the time when you hear a " pop" sound you may need to discharge it few more times to really make sure there is no more high voltage.




Once you have done cleaning the anode cap area, you then can apply the silicone around the anode cap as this way it can prevent the arc from shorting the cold ground-see the photo below:



It is not tough to repair this kind of problem. I knew that many repairers already stopped repairing CRT TVs or Monitors and already shifted to repair LCD/LED TVs. But you need to know that many countries are still doing the CRT repair. As a repairer, if customers want me to repair their CRT TV/Monitors I will do my best to help them out. This can also help to save our environment.

This article was prepared for you by Suranga Bandara who owns an Electronics shop in Anuradapura, Sri Lanka.
Please give a support by clicking on the social buttons below. Your feedback on the post is welcome. Please leave it in the comments.
P.S-  If you enjoyed reading this, click here to subscribe to my blog (free subscription). That way, you'll never miss a post. You can also forward this website link to your friends and colleagues-thanks!
Note: You may check out his previous repair article in the below link:
https://www.jestineyong.com/lg-dvd-video-out-problem-repaired/
Likes
(

111

)
Dislikes
(

0

)