Tokaï DVD-715S Audio-CD/MP3/VCD/SVCD player repair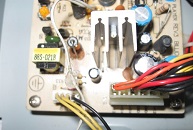 This Tokaï DVD-715S Audio-CD/MP3/VCD/SVCD player somehow never was a very dependable or convincing playing device. Although it was a very expensive Player when I bought it at that time. (about 15 years ago). Because I had to return it only after a few months because the CD Player often refused playing.
And although after repair it was a bit better working, it still had no Headphone Output which it should have had at the price it had cost. And long after the 1 year guarantee had passed it again needed a repair internally. And I decided to do that myself. Which meant replacing a Zener Diode on the Power Supply and also replacing an electrolyte Capacitor on board. Both at the secondary side of the 8 dip KA3842A controlled Power Supply.

That became obvious when this Tokaï CD Player (Type of Player also called identical to YAMAKAWA) behaved erratic when the POWER button on the left Front was pushed and it wouldn't go On, or did go On but afterwards just quit.
So I replaced the Zener, which I placed underneath the Power Board. And replaced the Capacitor but used a larger one with a higher Max Voltage. Because the Bigger replacement Capacitor couldn't fit on the position of the old removed one, I used 2 wires to attach it. And the DVD-715S player worked again many years, mostly as an Audio-CD player until it recently again worked badly. It seemed to search for the inserted Audio-CD Tracks but didn't play them anymore.
Or it played them but it seemed to play the Tracks very unsteady and with leaving parts unplayed or with short breaks in them. So it was time to open up my Tokaï Player again.
As you can see on the next photo there again is a Bulging Capacitor on the Power Board that needs to be replaced. (It is always those Blasted Electrolytes!). Just above the 6 Pins wide connector.
(With voltages -12 [Orange],+5 [Red], GND [Black], and +12 V [Yellow]).
It was a 2200uF 16V type which I replaced by a bigger 25V Capacitor.

On next photo a closer look at the bottom layer side of this Power Board.


Next photo shows a closer look at the Bad Bulging 2200uF 16V Capacitor.

Previous Photo shows the IDE controller with the MP3/VCD/SVCD decoding Board on the right side in this Tokaï VCD/SVCD/MP3 Audio-CD player. In the middle of this Tokaï Player there is the P-ATA/IDE CD-Drive. The Power Board is on the Left of the CD-Drive.
It is an ordinary 40 pins IDE Player. Because I've tried another IDE CD-Drive that also worked! I tried a LG CRD-8484B drive and it played perfectly. In case you would however try a DVD P-ATA IDE player, then the Front display will not work! Like for instance the ones often used in players from CyberHome or other Manufacturers that have their own kind of electronics decoder integrated.

Photo above shows the Connections on the Back of this Tokaï multi-player. Next photo shows the Label on the Back in Close-up. So it was made in Taiwan or China.
And next the first screen shows what the Tokaï player displays after it was switched on. Followed by the screen when an Audio-CD is Playing. And finally the last photo shows that the Player starts with playing a self made VideoCD.
The Player is working again. Repair succesfully done!
These Players also can easily be Firmware upgraded with Firmware on Boot CD.


So this player has its advantages like the possibility to exchange the internal CD Player Drive that is controlled by a standard IDE P-ATA controller board! Just like my repair article about the Philips HDD & DVD Player/Recorder, the DVDR 3595H (H for HDMI), that also could be fixed by a Firmware upgrade. And also could be internally exchanged with any other standard P-ATA IDE DVD-recorder drive.
Until a next repair!

Albert van Bemmelen, Weert, The Netherlands.
Please give a support by clicking on the social buttons below. Your feedback on the post is welcome. Please leave it in the comments.
P.S- If you enjoyed reading this, click here to subscribe to my blog (free subscription). That way, you'll never miss a post. You can also forward this website link to your friends and colleagues-thanks!
Note: You can also read his previous repair article below:
https://www.jestineyong.com/42-lg-led-tv-repaired/
Likes
(

118

)
Dislikes
(

0

)