Toshiba Laptop With Grinding Noise Repaired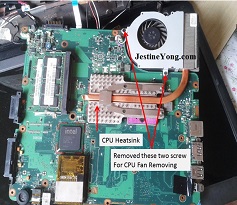 A customer came to my workshop with his Toshiba Laptop with the complaint of grinding noise from inside the laptop.

While discussing with the customer about his laptop history he has told me about few months back he has given this laptop to someone for repair but he is not happy with the work. The reason for this is because the laptop gives intermittent problems such as very slow to operate, sometimes hanging problem or no display and etc.
After this discussion I told the customer that he has to pass the laptop to me for troubleshooting.  That time it was already late and I had to start working on it the next day. Laptops opening are very tedious job because of too many different sizes of screw and you have to manage the location of screw. Usually I used one blank paper and by making mark on it so I can keep track where the screw belongs. I am not going in deep process of opening the laptop because it is a long process to disassemble the laptop. Please refer to this link for process.
http://www.irisvista.com/tech/laptops/Toshiba-Satellite-A305/laptop-disassembly-process-1.htm
So after opening, this is what I found!

On visual inspection I found that someone has repaired the Tokin Capacitor area before.

As you see in the photo, the technician has not removed the paper tape, who has repaired this laptop before.

These are 330uf 2.5v SMD tantalum capacitors.
As I have tested these capacitors by analog meter but all of them seems to be good no leakage or shorting. Hence I have decided to do some more inspection so I have removed the motherboard from the laptop to see if I found some physical damage or burn mark but there was no damage found up till.
Next I removed the CPU FAN from the motherboard for testing. Now Here I found the culprit of this problem I found screw holding plastic part was broken.

So this is the culprit who makes grinding noise and making laptop operation misbehaving.

So I have replaced the FAN unit with new one and after reassembling the laptop I have kept the laptop under working observation for two days and it works fine.
This article was prepared for you by Yogesh Panchal who works as a Computer Hardware Engineer in Mumbai India.
Please give a support by clicking on the social buttons below. Your feedback on the post is welcome. Please leave it in the comments.
P.S- Do you know of any your friends who would benefit from this content that you are reading now? If so, forward this website to your friends or you can invite your friends to subscribe to my newsletter for free in this Link.
Likes
(

171

)
Dislikes
(

0

)