Treadmill Repair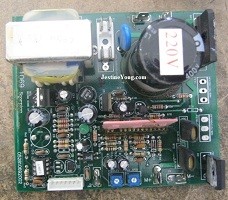 A dead treadmill that brought back to life
A guy who is selling second hand sport equipment brought a power board that was dead. This power board is a part of a treadmill machine. He could not bring the whole machine because it is too heavy to carry it and my shop is too small to receive such a machine.

The moment I took a look at this board, I could see that the main fuse was open and I noticed that because the fuse was really dark on the inside indicating a serious short on that board. I connected a 100 watt light bulb to the main fuse connectors and powered up the machine and to my surprise, the light bulb went dim indicating that the board is ok and there is no short in it. I was really surprised to see that. I could test 300 DC volts on the motor negative and positive connectors indicating a working power board.
For your information, I never worked on such boards so I had to ask a friend of mine about it because he repairs such equipment. When I asked him, he smiled and said, yes my friend, the motor connector is giving you 300 DC volts that is a good sign but the motor that should be connected to this socket is not in good working condition. That is why the fuse was open and he pointed to a transistor G30N60 which is actually a MOS N FET and said this transistor is shorted as well. I checked it out with a multi meter and it was actually shorted. When I replaced this transistor and put a motor that he had in his shop, the motor started to spin nicely. 

I called the customer and told him that the board is ready but gave him a warning about the motor that he have. It should be fixed first before adding this power board to it otherwise the fuse will be shorted and the transistor will blow again. He accepted this idea and sent the motor to be fixed. He gave me a call later that day that the motor was actually bad and now it was fixed.
He came and took the board and installed it in the treadmill and it worked nicely.
It was a new experience to me and was very happy that all went well.

This article was prepared for you by Waleed Rishmawi, one of our 'Master Authors' and currently working in the Bethlehem area of Palestine repairing electrical and electronic equipment. Please give a support by clicking  on the social buttons below. Your feedback on the post is welcome. Please leave it in the comments.
By the way if you have any good repair article that you want me to publish in this blog please do contact me HERE.
Likes
(

14

)
Dislikes
(

1

)