UPS-SL650 repaired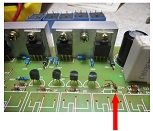 This UPS (Uninterruptible Power Supply) was brought to me with the purpose to replace the seal lead acid battery rated as 12v/7Ah.
When the device was disarmed look what I saw:

As you can see there were three bulged e-caps and a lot of dry solder joints and the PCB was black in some places indicates heating problem in the components.
The three e-caps (2 x 1000µF/35v and 1 x 220 µ F/35v) were replaced.

The dry solder joints were reestablish with fresh tin and the new battery was replaced.

When the device was connected into the AC-mains and switched on, it was switching continuously from Normal operation to Back Up operation (inverted mode) once and again.

At this time the job continued, my first doubt were the relays, therefore they were extracted from the circuit.

They were checked with a DC Power Supply and a Digital Multimeter, and all of them were ok. The components situated around the five relays were checked one by one with the DMM, and know what? A crystal diode was de-soldered from the circuit, I realized from this situation by chance because I was touching some components with the tips of the DMM

The relays were re-connected again. This time the UPS was tested with the connection of the AC-mains and look at the result  .


This article was prepared for you by Humberto Rodriguez, one of our 'Master Authors' from Cuba.
Please give a support by clicking  on the social buttons below. Your feedback on the post is welcome. Please leave it in the comments.
P.S-  If you enjoyed reading this, click here to subscribe to my blog (free subscription). That way, you'll never miss a post. You can also forward this website link to your friends and colleagues-thanks!
Note: You may check his previous repair article in the below link:
https://www.jestineyong.com/beware-when-it-comes-to-solder-e-caps-in-pcbs/
Likes
(

162

)
Dislikes
(

1

)