A dead satellite receiver restored back to life. VisionNet VN3106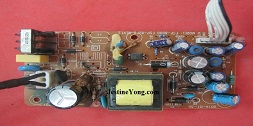 Three of these dead satellite receivers were brought to my shop for repair. The guy who brought them, a friend of mine, said something about electricity problem happened in their building which is a fitness center.
These devices were connected to the running treadmills in that center. The main purpose of these receivers is to entertain people by watching movies or hearing songs while doing their exercise.

Since he brought three of them, and all of them, same brand name and all looked the same on the inside, I decided to repair one of them and once I know what is wrong I can continue to repair the others. Let the repair begins.

I took the power board out and the fuse was blown. This is an indication of a serious problem with this power board. So my focus was set on the rectification section of this board.  Two of the diodes were shorted, the main power IC was shorted.

It is a very good idea, when you find only two diodes in the rectification section blown, is to replace the four diodes.  Once I replaced these four diodes, I set my focus on the actual power IC that was shorted as well. The part number is 5M0365R.

This one looked pretty decent on the outside. The other IC's that I checked in the other satellite receivers were actually blown to pieces. I was so glad to see an intact one so I can get the part number off and replace them with working ones. The IC's were not easy to find but I managed to get them off the internet.
All three receivers had exactly the same problem and all of them were fixed. The guy came and got them all and was a happy customer. Mission Accomplished.

This article was prepared for you by Waleed Rishmawi, one of our 'Master Authors' and currently working in the Bethlehem area of Palestine repairing electrical and electronic equipment.
Please give a support by clicking on the social buttons below. Your feedback on the post is welcome. Please leave it in the comments. If you have electronic repair articles to share with us, please contact us HERE.
P.S-  If you enjoyed reading this, click here to subscribe to my blog (free subscription). That way, you'll never miss a post. You can also forward this website link to your friends and colleagues-thanks!
Note: You may check out previous post about fixing active speaker in the below link:
https://jestineyong.com/lcd-screen-with-white-display-repaired-model-e-machines/
Likes
(

80

)
Dislikes
(

0

)