Creative Speakers Volume Control Not Working Repaired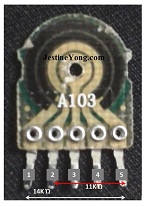 On a holiday with my family I have visited to one of my friend's home for his son's birthday party and children are enjoying very much. After cake cutting they plan to play music and dance; all the children move to another room where they kept PC and dance program.
After a while my friend came to me and told me the sound coming out from the speakers was not working (distorted) and it worked intermittently. I managed to get the proper sound when I hold the volume control.  This means the volume control is the cause of the problem. The speakers model is Creative 2.1 . It comes with two satellite speakers and one woofer and of course a wired remote volume control.

ter the party I have asked my friend to bring the speakers to my workshop because I do not have tools with me to repair at that time. Next day my friend visited my work shop with the speakers.


I opened the volume control and cleaned it with contact cleaner but without success. Now I have decided to replace the volume control. This volume control is having five pins and with a marking of "A103".

103 means it is a 10 K ohm value potentiometer (POT). I have taken apart volume control for inspection and by measuring the resistance; I got 14 k ohm across pin 1 and 5, 11K ohm across pin 2 and 5.

Once you have taken apart this volume control you cannot fix it again and you have to dispose it. It is very difficult for me to find this type of POT. After searching in so many radio shack I have managed to arrange one but physically it is not good but I have no choice hence I have replaced it.

After replacing it, I have put the speakers "ON" and I played music, this time I got very good sound. This way I have solved the problem of intermittent distorted sound.

A replacement  POT
This article was prepared for you by Yogesh Panchal who works as a Computer Hardware Engineer in Mumbai India.
Please give a support by clicking  on the social buttons below. Your feedback on the post is welcome. Please leave it in the comments.
P.S-  If you enjoyed reading this, click here to subscribe to my blog (free subscription). That way, you'll never miss a post. You can also forward this website link to your friends and colleagues-thanks!
Likes
(

158

)
Dislikes
(

5

)