Found A Diode Shorted In Computer SMPS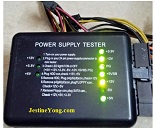 This Beetel Computer SMPS Model BT-450R was handed over to me by my technician friend saying that it was dead and he did not have time to attend to it, and the customer wanted it to be delivered urgently. Ever since I had the great opportunity to buy and study Jestine Yong's book on SMPS Repair, in which he encourages us to take up service of SMPS, because of its challenges, I never miss any opportunity to do so. So, I brought it home and opened it and dismantled the PCB and cooling fan. Then I cleaned the inside thoroughly, which is my usual practice.
After cleaning it thoroughly, when I took it up for troubleshooting, I observed a lot of dry solder on the board.



After finishing retouch of all solder joints on the board from one end to the other, I checked ESR of all capacitors and found these to be ok. I applied power through a Series Bulb, after shorting the green pin to ground and found it to be still dead. Checked DC Voltage at the tank capacitors and found it to be ok. Disconnected and discharged the caps. Did a ring test on the primaries of the three SMPS Transformers. The large one and the next small one were showing correct reading. But the third one showed a short. In order to access the components on the board, I removed both heat zincs along with the mounted components.

Checked all the components on the Heat Zincs for any faults using my Peak Atlas. Did not find anything wrong. I even removed the opto-coupler and checked. It was ok. From the secondary of the SMPS from the suspected section, I disconnected one end of both the diodes. Then I did ring test of that SMPS transformer and found it to be reading well. So, checked the diodes and found one FR104 short in it. Then checked all semiconductors and resistors on the board for any defect and did not find anything else. Replaced the diode with FR107.
Re-fixed the Heat Zinc mounted components and cleaned the board thoroughly. Again shorted the green wire to ground on the secondary side and applied power. This time, the fan whirred well indicating that the output was coming.

So connected my SMPS tester and checked:

Here is the picture of the defective Diode:

Another work got added to my satisfaction bag, which happily readjusted itself to accommodate the new entrant!

This article was prepared for you by Parasuraman Subramanian from India. He is 69 years old and has more than 30 years' experience in handling antique equipment like Valve Radio, Amps, Reel Tape Recorders and currently studying latest tech-classes conducted by Kerala State Electronics Technicians' Association. He has done graduation in BBA degree, private diploma in Radio Engineering and retired as MD of a USA company. Presently working as Consultant to Hospital and other institutions.
Please give a support by clicking  on the social buttons below. Your feedback on the post is welcome. Please leave it in the comments.
P.S-If you enjoyed reading this, click here to subscribe to my blog (free subscription). That way, you'll never miss a post. You can also forward this website link to your friends and colleagues-thanks!
You may check on his previous repair article below:
https://jestineyong.com/lightning-strikes-on-onida-ultraslim-300-tv/
Likes
(

66

)
Dislikes
(

0

)