ICI PC Power Supply repaired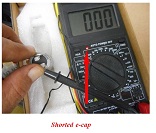 The Switch Mode Power Supply (SMPS) of this brand is ICI and model: ICI-350W. It was brought to me and the complaint was it was connected into the AC mains of 220 volts with the rear voltage selector in 115 volts position. Of course it was fully dead.

The SMPS was disarmed; a piece of cake, only four screws in the upper cover, and you can see the whole power supply board.

First thing checked was the fuse, and it was opened. But before substitute the fuse the active components in the corresponding circuit were tested on: Diode Bridge, both Oscillator Transistors, and some other small signal Diodes and Transistors from the primary side.
Till here all the components were fine. So the fuse was replaced and when the SMPS was connected into the AC mains, the fuse blown again.
The primary side of the SMPS was re-checked and look what I found.

As you can see in the photo above one of the big filter capacitors (680µF/200 volts) of the primary side was shorted when I tested it with the Digital Multimeter. Since I do not have the spare part, I have used 470uf 200 volt cap as replacement.

The secondary side components were checked also and found another e-cap (1000µF/10 volts) with high ESR value. It was tested with my Blue ESR meter.

It was substituted with a similar cap value. I then powered On the power supply and checked on the voltage readings.

All the voltage values were fine, so the SMPS was fully assembled and put into the PC cabinet. When the PC was turned on, it really worked fine.

Note: the rear voltage selector was put into 230 volts position, because this PC was going to work in 220 volts.
If you want to know more about SMPS repair you can check out this link.

This article was prepared for you by Humberto Rodriguez, one of our 'Master Authors' from Cuba.
Please give a support by clicking  on the social buttons below. Your feedback on the post is welcome. Please leave it in the comments.
P.S-  If you enjoyed reading this, click here to subscribe to my blog (free subscription). That way, you'll never miss a post. You can also forward this website link to your friends and colleagues-thanks!
Note: You may check his previous repair article in the below link:
https://www.jestineyong.com/my-home-pc-repaired/
Likes
(

156

)
Dislikes
(

0

)