Lightning Struck BPL Two-In-One Model CWX-69 Restored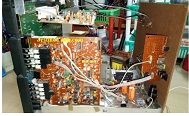 This set was bought by me from BPL, where I was employed for almost 20 years. BPL had allowed certain fringe benefits like supplying its audio/video products at drastically reduced prices to its employees. This was such a set. It was serving me well, until I moved to my home town, Irinjalakuda, Kerala, India, where lightning strikes are quite common. This set alone had suffered lightning strikes 3 times! First time when it got struck, I had to not only restore cut tracks at many places, but also replace all the ICs in the set, including the STK! But I did all that and restored it back. The next year also, it got affected, though the damages were minimal and again I brought it back to working condition. It got struck again after a couple of years and that time, it was very minimal; only a resistor in the radio aerial section had got burnt!
This year, recently again the Radio went dead during the monsoon season, probably another lightning strike! So, when I got some free time, I took this up, opened and cleaned the inside thoroughly, dismantled the whole set for complete maintenance and service. I observed charred/broken components on the board, indicating another attack on this lightning-monger set! The MW Coil was open (I hand wound it again this time, picture of which is given below), the AM/FM IC was defective (no signal came out from it, when checked;) the Varactor Diode had its leg missing as it was burnt off, the 0.047F/5.5V capacitor (for retention of Tuning preset memory in power off mode) got burnt etc.:

Well, laughing to myself on the repeated attacks on this set like some vengeance by the 'Thunder Devil' (LOL), I patiently replaced all the components one by one. As I had replaced almost all electrolytic capacitors in this set during my previous service, I left it after checking ESRs of these at random. Provided belts on the Tape Recorder. Reassembled the set and played Tapes and it worked well. In the Radio, only FM worked very well. AM was dead as the handwound coil did not work. But I had no time to do trials on it and so left it to be solved at a later time (perhaps another 'lucky' lightning attack!)
Since STK ICs are known speaker killers, when gets shorted, I decided to add one Speaker Protection Circuit on this Set. I had already done some modifications in this set long time back, to add Line Out at the rear, which you can see on the second picture at the beginning of this article. I imported a ready DIY speaker protection kit from Ali Express, assembled, provided separate power supply to it and fixed it inside the Amp, which had plenty of space! Provided one more 12V Regulator on this supply, apart from the two already it had in the secondary of the main power supply. I also added a cooling fan which I fixed on the Heat Zinc of the Amp.




Applied power and checked the set and found it to be working very well, indicating another miracle survival! The FM was too good! The curtain was drawn on this service, throwing open a few more areas for the 'Lightning Devil' to strike, if at all it was getting bored by damaging same places repeatedly! (LOL)
And, of-course nothing could stop the 'satisfaction' from jumping to its collection bag!

Jovial tail piece: When I demanded a sum of Rs.1,000 to my wife asking her to pay for the services done on this set, she agreed smilingly, and replied that she would pay me later. Then came to me later saying that our BPL set got repaired and the 'serviceman' wanted Rs.2,000 to be paid! So, I asked for trouble! Well, we should never try to play with ladies, who almost all the time outsmart men! Another lesson learnt! (Series of LOL)

This article was prepared for you by Parasuraman Subramanian from India. He is 69 years old and has more than 30 years' experience in handling antique equipment like Valve Radio, Amps, Reel Tape Recorders and currently studying latest tech-classes conducted by Kerala State Electronics Technicians' Association. He has done graduation in BBA degree, private diploma in Radio Engineering and retired as MD of a USA company. Presently working as Consultant to Hospital and other institutions.
Please give a support by clicking  on the social buttons below. Your feedback on the post is welcome. Please leave it in the comments.
P.S-If you enjoyed reading this, click here to subscribe to my blog (free subscription). That way, you'll never miss a post. You can also forward this website link to your friends and colleagues-thanks!
You may check on his previous repair article below:
https://jestineyong.com/found-a-diode-shorted-in-computer-smps/
Likes
(

50

)
Dislikes
(

1

)