Microwave Oven with, no heat problem, repaired. Model: Brother BR-713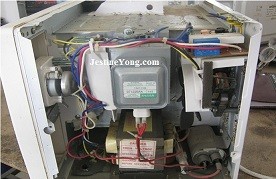 This microwave oven was brought to my shop by a restaurant owner who lives nearby and told me that it does not heat up the food. Usually when a microwave oven does not heat up, it is a problem either in the magnetron head or that magnetron is not getting any power to make it work. To find out what is causing this no heat problem I had to open the cover and check it out.

Before I took the cover off, I wanted to try the microwave oven and see if it heat up or not. I always test the machine no matter what the customers say; that is my philosophy.  I put a cup of water in there and powered up the machine, and as the customer said, it did not heat up the water.

I took the cover off. The first thing I did was to discharge the main capacitor in the machine. It is very important that you do that before attempting any repair in microwave ovens. I disconnected the Magnetron head main power connections and powered up the machine, and checked the voltages reaching the main transformer and I had a 220 volts reading there indicating a good working power supply.

The next step is to check the magnetron head connectors. The two connectors should have a 0.3 ohm reading on them because they are connected inside the magnetron head. When I did the ohm testing between the connectors and the body of the magnetron head, it should not give me any reading. If there are readings, then the magnetron head is defective and need to be replaced. In my case, it was defective and I replaced it right away.

Before I powered up the machine, I had to clean the inside of the oven otherwise, I will see some electrical sparks inside the microwave oven cooking area. The dry food in there will work as a conductor to electricity causing these nasty sparks. That is why you cannot heat up food in metal containers when using the microwave oven. I did the cleaning and powered up the machine and the coffee that I put in there was heated up nicely. Now I am enjoying a nice cup of coffee while wait for the customers to come and pick it up.

This article was prepared for you by Waleed Rishmawi, one of our 'Master Authors' and currently working in the Bethlehem area of Palestine repairing electrical and electronic equipment. Please give a support by clicking  on the social buttons below. Your feedback on the post is welcome. Please leave it in the comments.
By the way if you have any good repair article that you want me to publish in this blog please do contact me HERE.
Likes
(

34

)
Dislikes
(

0

)