Shorted MDF11N65B FET and 331, 1kv Capacitor In TV Power Supply Board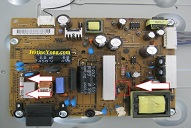 An LG LED TV was brought to my shop by a guy who is in charge of maintenance at a hotel nearby my place.  He has more than 10 TV's for repair but he brought only one to see if I can fix it and of course the cost. This set was completely dead.

Since this was a test to see if I am good enough technician to get the TV fixed, I was willing to open it and do my best to get it up and running.
The reason I said that because I really hate LG brands and the parts are too expensive to buy and most of the times, they are hard to find.

Once the cover was off and I was able to see what inside the TV, I started scanning for problem on the power board. The first thing that I checked was the fuse and it was open.

Since the fuse was open, the first thing I checked was the bridge rectifier and it was not shorted. As I was scanning for clear sign on the power board, I came across something that looked dark in the secondary section of the power supply. And I believe something was shorted and even one piece was missing.

This is a closer look of the damaged area. The part shorted was MDF11N65B and if you look closely next to the heat sink you will find what left of the blown capacitor.

The Mosfet is 650 volts and the current 12 amps rating. The capacitor which was blown is 331k, 1kV.

These were the only shorted parts found on that power supply.
I managed to find the shorted Mosfets in my shop because I have some of bad LG power supplies in my shop.

I replaced the shorted parts with used parts from the old powers supplies that I have in my shop. Before I powered up the set, I added a light bulb to the fuse pins to make sure there are no shorted parts left on that power supply (sorry, I do not have a photo of it).
The light did not come on at all and that was my green light to add the fuse to the board.

Mission accomplished.

This article was prepared for you by Waleed Rishmawi, one of our 'Master Authors' and currently working in the Bethlehem area of Palestine repairing electrical and electronic equipment.
Please give a support by clicking on the social buttons below. Your feedback on the post is welcome. Please leave it in the comments. If you have electronic repair articles to share with us, please contact us HERE.
P.S-  If you enjoyed reading this, click here to subscribe to my blog (free subscription). That way, you'll never miss a post. You can also forward this website link to your friends and colleagues-thanks!
Note: You may check out previous post in the below link:
https://jestineyong.com/2000mah-lithium-ion-faulty-in-battery-pack/
Likes
(

115

)
Dislikes
(

3

)