Six Power Mosfets Shorted and…..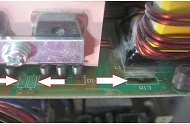 this Link.A severe damaged welding machine repaired. Model: Zika I-200
My cousin brought his machine for repair. I have seen this machine before but this time the damage was very severe. Take a look.

It was completely dead. My cousin mentioned something about a loud exploding noise heard the moment he plugged it into the wall power socket. I never heard of such cause of fault.
He also explained that the power switch was on the moment he plugged the power cord into the wall socket. Very interesting.

The moment I took the metal cover off, I saw this damage on one side of the Mosfets. I could see the black burn there and that is not a good sign at all.

It is always better to take the part under test off board for better testing result but in this case I just wanted to have an idea of what I am dealing with. At this moment I was getting short reading on all the Mosfets but I know for sure not all of them were shorted out.

I tested all the Mosfets off board and I found that six of these parts are shorted out.

Every pin on these Mosfets was shorted out which means there are other parts that are already damaged. The part number is 23N50E which I have plenty of in my shop.

Click above  to go into the 23N50E Datasheet website


These were the blown parts bunt and blown to pieces. From my experience in these machines, the diodes are FR104 and the resistor either 2K or 100K Ohms depending on the model.

Click above to FR104 Datasheet Website

These are the replaced part on this machine and it was time to test it out and see the outcome of this severe repair.

That is not what I had in mind. This voltage is too low for the welding to take place in this kind of machines. I was getting this reading when positive probe on the positive output and negative on negative output of the machine but when I reverse polarities, I get 75 but in minus.
That was a very strange reading indicating a bad main board and again, that is not a good sign at all.

That is the main board located on the top board of the welding machine. I was looking for faulty parts on that board and guess what? I found two Zenner diodes that were shorted out keeping in mind that the Mosfets I replaced is connected directly to this board. The faulty Zenner diodes found here were 3.1 volts. The closest Zenner value to this that I have in my shop was 3.9. I decided to replace that and see what happens.

This is what I had in mind and as it went through tough testing by my brother the welder next door, I could say with confident, it is an up and running welding machine.
Mission Accomplished.

This article was prepared for you by Waleed Rishmawi, one of our 'Master Authors' and currently working in the Bethlehem area of Palestine repairing electrical and electronic equipment.
P.S- Do you know of any your friends who would benefit from this content that you are reading now? If so, forward this website to your friends or you can invite your friends to subscribe to my newsletter for free in this Link.
Note: You can check his previous repair articles in the link below:
https://jestineyong.com/a-dead-reading-book-toy-was-brought-back-to-life/
Likes
(

83

)
Dislikes
(

1

)