VDR Saved ONIDA Ultra Slim CRT TV MODEL CO21SJQ350BR From Extensive Damage By Lightning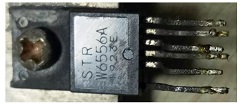 This CRT TV had visited me in July 2015 and those who have missed this article may please follow this link:
Leaky Capacitor Caused Onida CRT TV To Become Dead | Electronics Repair And Technology News (jestineyong.com)
Once again this was brought in in August, 2022 reporting that the TV became dead due to lightning strike. The voltages in their house surged up blowing many appliances including this TV. I opened the TV and cleaned the inside thoroughly, after which the customer himself moved the heavy TV to inside my house and left.
On inspection of the board, I saw one 250V cap bulged near the FBT, the fuse was blown and the VDR was found cracked and shorted. I replaced the VDR with an almost equivalent one.

You can check the datasheet of 14D471K here:
14D471K pdf, 14D471K Description, 14D471K Datasheet, 14D471K view ::: ALLDATASHEET
Then applied power and still the TV was dead and the full voltage remained in the Tank Capacitor which itself is an indication that switching was not taking place. If switching was taking place, oscillation will continue until the voltage drops to a low level. After combing the primary and secondary area for any defective component, I decided to replace the STR W6556A and see.

I connected a 100W bulb as load in place of the LOT by pulling out one end of the jumper wire that goes to the primary winding and gave power. Got the following result:

The output of 110V DC was good and I put the jumper back (of-course after removing the plug, discharging the tank capacitor!).
Then loaded the PCB to the CRT and checked. The TV came on with good blue screen. I then fed a video signal and was glad to see a good picture.

I allowed the TV to be on for several hours before putting the back cover and calling the customer to pick it up.
Mission accomplished quickly without forgetting to add satisfaction to the collection bag!


This article was prepared for you by Parasuraman Subramanian from India. He is 72 years old and has more than 30 years' experience in handling antique equipment like Valve Radio, Amps, Reel Tape Recorders and currently studying latest tech-classes conducted by Kerala State Electronics Technicians' Association. He has done graduation in BBA degree, private diploma in Radio Engineering and retired as MD of a USA company. Presently working as Consultant to Hospital and other institutions.
Please give a support by clicking on the social buttons below. Your feedback on the post is welcome. Please leave it in the comments.
P.S-If you enjoyed reading this, click here to subscribe to my blog (free subscription). That way, you'll never miss a post. You can also forward this website link to your friends and colleagues-thanks!
You may check on his previous article on Servicing Four Radios, SONY ICF7600AW – PHILIPS RL118 – SANGEAN SG700L – PHILIPS PRESTIGE 556
Likes
(

46

)
Dislikes
(

0

)